Surprise: Diablo Immortal launched a day earlier… but only on iOS and Android. This spin-off from the Diablo series was originally announced only for mobile, but it's also coming to PC. In fact, you can preload Diablo Immortal on PC right now.
But when can we play it?
Diablo Immortal will launch on June 2, but keep in mind it's an open beta (though that doesn't stop it from having microtransactions already). "When the PC version exits the open beta period, all progress and purchases you've made will carry over," Blizzard says. Here's when Diablo Immortal unlocks in your time zone.
Diablo Immortal Release Dates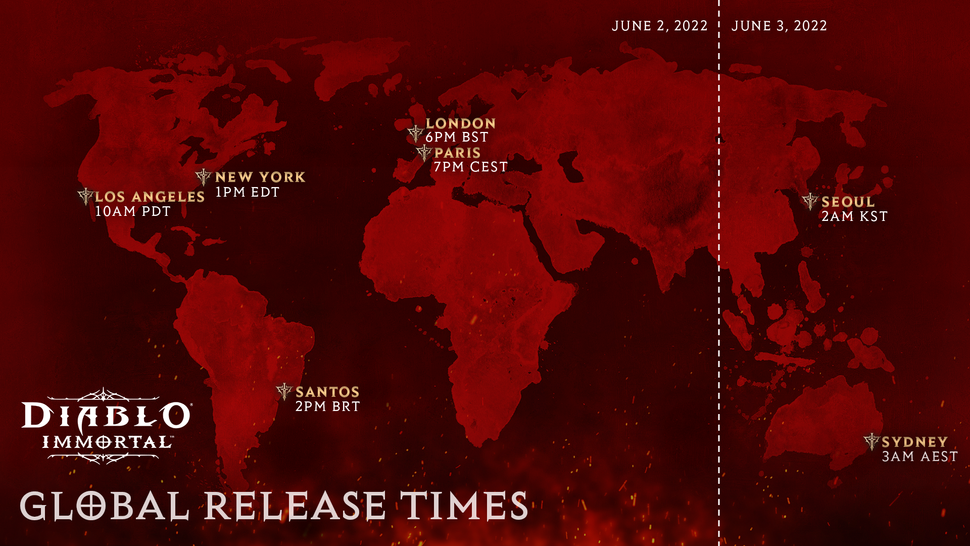 Diablo Immortal has a global unlock time on PC on June 2, which was also supposed to be the release time for the iOS and Android versions of the game. Those two launched a day early.
Los Angeles: 10am
New York: 1 p.m.
London: 6 p.m.
Paris: 7 p.m.
Seoul: 2 a.m. (June 3)
Sydney: 3 a.m. (June 3)
If your time zone is not included in this list, use this handy time converter (opens in a new tab) to find your answer.
Here is what you will need to run Diablo Immortal on PC with minimum settings:
CPU: AMD FX-8100 or Intel Core i3
GPUs: NVIDIA® GeForce® GTX 460, ATI Radeon™ HD 6850 or Intel® HD Graphics 530
Memory: 4 GB of RAM